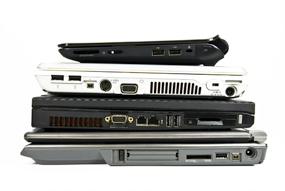 Electronics have revolutionized our daily lives. They are all around our homes and workplace and are used on a daily bases. The one thing that all these devices have in common is that they all contain various hazardous components.
There are a variety of batteries and circuit boards with toxic heavy metals, plastics with flame retardants, and leaded glass CRT's. Many States have now banned these items from land disposal in landfills to prevent further environmental contamination.
Many of these devices also contain personal confidential information. Confidential data is often stored on computers and may be accessible even when the machine seems unusable. Business are required to manage personal confidential financial and medical data that they collect from both customers and their employees. Improper disposal of electronics with confidential data is one of the greatest contributors to the crime of identity theft today.
ALR maintains a "Zero-Landfill-Policy" for all e-waste sent to us for recycling. ALR provides a "Turnkey Management Service" for the recycling of e-waste to protect your business from both the Environmental Liability and Data Security Liability associated with the disposal of these items.
Since customer security is ALR's top priority, a data destruction process has been developed to ensure that no confidential information falls into the wrong hands. All data is rendered unrecoverable from hard drives, jump drives and removable media through either shredding or degaussing. Visual statements of ownership are also removed. In addition to protecting your privacy, ALR can provide detailed documentation of data destruction for an additional charge.