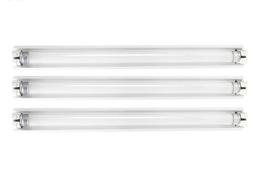 It's the Law! All fluorescent and HID lamps, without exception, contain mercury-a toxic element that makes it illegal to discard with your businesses everyday waste. Due to the mercury content, fluorescent lamps are regulated by the USEPA.
In order to safely handle and dispose of your fluorescent lamps, ALR uses the USA Lights Technology, Inc., fluorescent lamp processing machine, specifically designed and engineered to meet federal EPA and NYS standards.
ALR's responsible disposable technology gives you peace of mind
Here's how it works: The USA Lights Technology processing machine processes under negative air pressure. The processing machine implodes the mercury containing lamps, capturing the mercury vapor and mercury-rich phosphor powder contained inside from each lamp. The mercury vapor is filtered through a multi-stage system. The mercury-rich phosphor powder is then retorted in order to separate and recover the elemental mercury for resale. The remaining components are then mechanically sized and separated. The aluminum end-caps are recycled and marketed to commercial and industrial users and the glass is disposed of properly.
Let ALR protect your company against future liability by accepting full-title to your lamps. ALR issues a Certificate of Recycling with each invoice, which verifies that your lamps have been properly recycled.
With over 17 years of experience, ALR is committed to providing our customers the most convenient, compliant and cost-effective recycling service. Give us a call so we can begin a long-term recycling relationship for years to come.