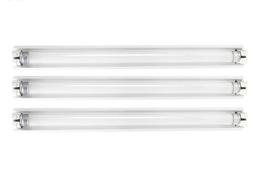 Responsible Compact Fluorescent Lamp Recycling & Disposable Technology
It's the law! All fluorescent and HID lamps, without exception, contain mercury. Mercury is a toxic element that makes it illegal to discard with your businesses everyday waste. Due to the mercury content, fluorescent lamps are regulated by the USEPA.
In order to safely handle and dispose of your fluorescent or compact fluorescent lamps, at American Lamp Recycling, we use the USA Lights Technology, Inc. fluorescent lamp processing machine. This machine was specifically designed and engineered to meet federal EPA and NYS standards to make fluorescent lamp recycling safe. ALR's responsible disposable technology gives you peace of mind!
Take a look at our lamp recycling kits here for safe and easy disposal of your fluorescent light bulbs! Or to get started with a long-term partnership, please give us a call at 1-800-315-6262, or contact us here.
How Does Our Compact Fluorescent Lamp Recycling Work?
To start, the USA Lights Technology processing machine processes under negative air pressure.
Next, the processing machine implodes the mercury containing lamps, capturing the mercury vapor and mercury-rich phosphor powder contained inside from each lamp. The mercury vapor is filtered through a multi-stage system.
The mercury-rich phosphor powder is then retorted in order to separate and recover the elemental mercury for resale.
The remaining components are then mechanically sized and separated.
Lastly, the aluminum end-caps are recycled and marketed to commercial and industrial users and the glass is disposed of properly.
How to Prepare Your Fluorescent Tubes for Recycling
Have a burnt-out fluorescent tube and you're wondering how to/where to recycle fluorescent tubes safely? To ensure safe transportation of your fluorescent lamps, follow these steps:
To start, make sure you turn off the fuse box prior to uninstalling the burnt-out tube. Use a stepladder and don't let the bulb to drop on the ground.
Next, remove the light cover and unscrew the tube.
Lastly, carefully pack your tube(s) using our convenient lamp recycling kits and drive it over to your recycling center. Avoid breaking the fluorescent tube(s) in your car/during transportation.
In the event you accidentally break a fluorescent tube – don't worry! If at home, make sure all people and pets have left the room. Air out the room for about 5-10 minutes and turn off any forced-air HVAC system. Use cardboard, sticky tape, disposable wet paper towels/wet wipes, and an airtight container to safely clean up the broken bulb.
Fluorescent Lamp FAQs
How do I dispose of fluorescent bulbs?
Following our steps above, you will need to safely uninstall the burnt-out fluorescent bulbs and take them to your local recycling or hazardous waste collection center.
Do all fluorescent lamps have mercury?
Yes. All fluorescent lighting, including bulbs, tubes, lamps, and compact fluorescent lamps (or CFLs), contain mercury. Because they contain mercury – a hazardous, toxic heavy metal – they must not be thrown in the landfill.
Why should I recycle fluorescent light bulbs?
It's important to dispose fluorescent light bulbs properly due to the accidental release of metals and toxic substances in the environment. Even some "green" lamps, which some manufacturers claim can be landfilled safely, still contain small amounts of mercury. As a result, it's important to properly recycle fluorescent light bulbs at a local recycling center like American Lamp Recycling.
Contact Us
With nearly twenty years of experience, American Lamp Recycling is committed to providing our customers the most convenient, compliant, and cost-effective recycling services available. Let ALR protect your company against future liability by accepting full-title to your lamps. Take a look at our other services here.
American Lamp Recycling issues a Certificate of Recycling with each invoice, which verifies that your lamps have been properly recycled. Give us a call at 1-800-315-6262, or visit our contact page so we can begin a long-term recycling relationship for years to come.